We believe everyone deserves a great night's sleep! TEMPUR Pedic as a specialized Medical division for health care providers.

TEMPUR
® material responds to your body's unique shape, weight, and temperature, automatically adapting to support your body.
So whether you sleep on your back, side (or change positions during the night) the mattress conforms to you. You get the exact support and comfort your body needs.
TEMPUR-Pedic
mattresses reduce pressure points—those spots where your body presses against the mattress (like your shoulders, hips, and heels).
Pressure points trigger discomfort, so your body shifts position—otherwise known as "tossing and turning." Without the tossing and turning, you sleep undisturbed for a calmer, more restful night.
TEMPUR
® material absorbs your weight and dramatically minimizes motion. When two people are sleeping on a Tempur-Pedic mattress, each is supported independently.
So no one rolls toward the middle, and if one of you gets up in the middle of the night, the other is likely unaware. You both sleep undisturbed, and get more hours of rejuvenating sleep.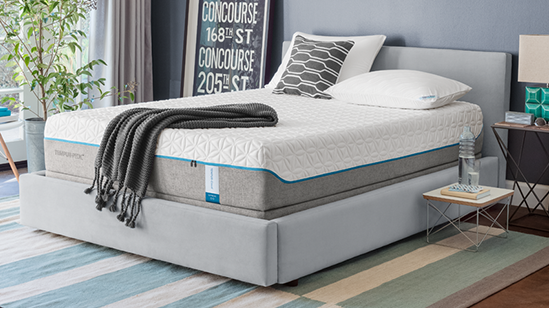 The TEMPUR-Neck Pillow is for sleepers who want a more controlled sleep posture to address neck or back pain. The contoured design helps align your head, neck and shoulders for more relaxing and restful sleep.Ergonomic shape developed by doctors to promote proper alignment and support
Relieves shoulder, neck and back pain by allowing neck and shoulder muscles to relax completely
Contoured TEMPUR® material maintains shape for correct support
Choose the proper size based on your shoulder dimensions and sleeping position to promote an anatomically correct posture